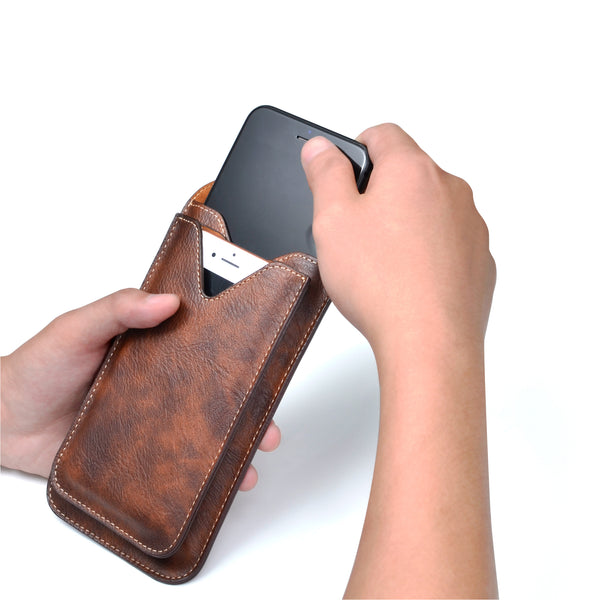 Compatible Device List - Outer layer Only

The following list is not exhaustive and more devices are compatible. Contact Ucord for more information.
For Apple - iPhone 11Pro Max, iPhone 11, iPhone XS Max, iPhone X, iPhone 8Plus, iPhone 7plus, iPhone 6Plus ect.
For Samsung - Galaxy S20 Ultra, Galaxy S20+, Galaxy S20, Galaxy Note10+, Galaxy S10+, Galaxy S10 ect.
The inner layer
It Can store iPhone 8, iPhone 7, iPhone 6S, Bankcard, Business cards, etc.
Magnet fit design

Flap Magnetic Closure: The phone pouch case is using flap magnetic closure, which is very convenient to open and close.
MULTI-FUNCTION
Suitable for working, camping, hiking, climbing, outdoor-living, trekking; can be used as a waist bag, utility belt pouch, outdoor hiking bag, or travel pouch.
2 Different Ways to Secure The Urban Pouch
Belt clip holster case lets you install this holster either vertically.
Plus a fixed metal belt clip with the carabiner hanging ring design for quick install and removal, you can hook it on your backpack or bags.
Why Choose FoldFuel?
Few items are more personal than a wallet. The contents tell you much about the individual, as does the wallet itself. The features of your wallet are limited only by your imagination. Most of the iconic brands in this space (and the leaders who carry their wallets) are still drawn to the timeless elegance of traditional elements like high quality genuine leather, though some of the newer collections reflect new-age values like veganism and sustainability, and use materials like microfibre, lightweight metal and up-cycled tyre-tubes. While billfolds are the most popular shape, minimalist cardholders and spacious trifolds are also options worth exploring. The wallets of today take their job of protecting your personal effects seriously. You can find models that are water-resistant, RFID-safe, or even equipped with fingerprint recognition.